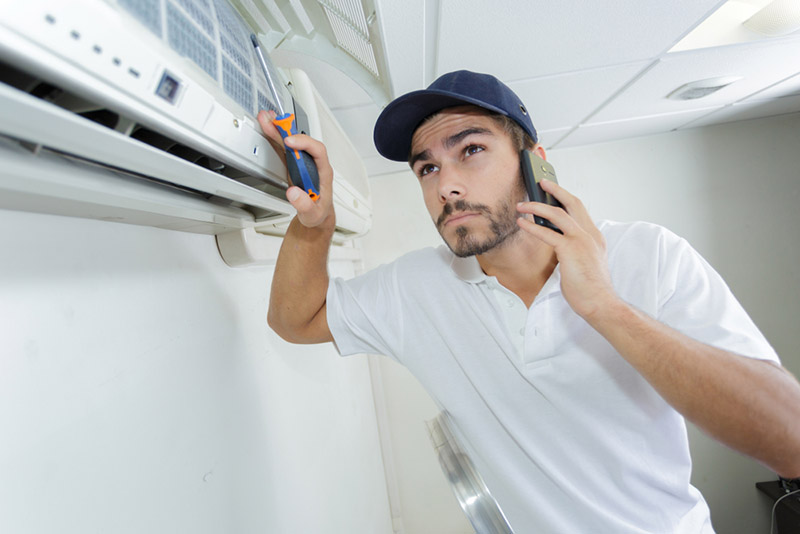 One of the most important components of your household is the HVAC system. It keeps you warm in the winter and cool in the summer.
HVAC professionals often have calls about malfunctioning systems. Unfortunately, HVAC repairs can be costly. When your HVAC system isn't working, it's not an expense you can put off. Because of this, let's take a closer look at when you should actually call an HVAC professional. We'll also look at the benefits of working with a trusted HVAC provider in your area.
Preventative Maintenance
Have an HVAC professional check the health of your system at least once a year. Most homeowners don't schedule an annual
HVAC checkup
. HVAC companies get busy with work requests when it starts to get hot or cold in your area.
We recommend scheduling your HVAC checkup when outdoors temperatures are in the comfortable. It's best to schedule it when it is in the 60 to 70-degree range. For most customers, schedule your annual system check in the spring or fall seasons. These seasons aren't as busy for HVAC professionals. If they find a major problem, you'll be able to remain proactive in formulating your response.
Preventative maintenance is important. It fixes minor problems that can turn into major problems. For example, what if you are using the wrong types of filters for your AC? What if your HVAC professional finds dust buildup in your vents? What if the valves of your furnace aren't working and cause your system to not be efficient? These concerns are best addressed by an HVAC technician during your annual check.
When Your System is Malfunctioning
It may seem obvious but if your HVAC system is malfunctioning, you should call an HVAC company. Unfortunately, some homeowners will put off calling an HVAC professional for various reasons. By not calling an HVAC technician to look at your HVAC system, other problems in your home could develop.
For example:
What if you have pets that are sensitive to heat and your AC isn't working? Is it safe to allow your pets to say in a home without air conditioning during a hot summer day?

Elderly residents are also at risk. What about the safety and security of your home when you leave windows open to cool off your home?

What if it's the winter time and your furnace stops working? Can you be sure that your pipes won't freeze over when you do not have heat circulating throughout your house?
Do You Need a 2nd Opinion?
One of the biggest investments in your home is your HVAC system. Should you buy the first system pitched to you by a salesperson? Are you sure that you don't need your HVAC system serviced?
Like any large investment, it might be good to get a 2nd opinion on your specific situation. You never know. Calling an HVAC professional can save time, money and effort in regards to the HVAC parts in your home.
Does your HVAC unit needs preventative maintenance? Is it malfunctioning? Would you like a second opinion? Contact Thornton Heating and Cooling today! Let our experts handle your HVAC problems so you don't have to.