Media Filters | Trane Filters
Media Filters of All Brands
We offer the best media filters from the top manufacturers, Trane, Honeywell, and Trion, that reduce the harmful particles that can cause respiratory problems. For air to be truly comfortable, it must be clean as well.
A whole-house air cleaner with a media filter will catch up to 96% of airborne particles moving through your HVAC system. Media filters not only capture the larger particles like pet dander, but microscopic particles such as smoke and dust.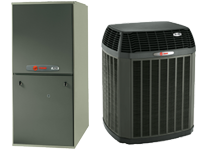 Filters for Your Equipment
Dirty air is also harmful to your heating and cooling equipment. The dirty particles stick to the internal components causing a loss in efficiency. Media air cleaners will keep your system clean and operating at peak efficiency. The 5″ media filters have MERV filtration ratings of 8, 11, and 13, which is 9 times higher and 15 times more effective than standard 1″ filters and can last up to 4 times longer.
Fitting your home with a media filter system is easy, affordable, and will give you clean, comfortable air. To find out which media filter is right for your home, contact us at 847-905-1608.