Gas Furnaces | Trane Furnaces
Today's new high-efficiency gas furnaces can save up to 50 percent in operating costs over a ten-year-old furnace. Many older model furnaces have an industry rating of only 65 percent, and some are rated lower.
Thornton Heating Services is proud to offer a line of high-efficiency Trane gas furnaces rated at 80 percent and 90 percent, with some model rates as high as 96.6 percent. Depending on your average usage, higher-rated furnaces can significantly reduce your gas bill.
Gas Furnaces Service – Furnace Repair
We offer many furnaces with variable and multi-speed features that can enhance indoor comfort by slowly ramping up to your thermostat setting rather than simply turning it on at full speed. This alleviates the "cold air blow" often associated with single speed furnaces and dramatically reduces system noise.
We'd be happy to take you through our selection of industry-leading furnaces for your home. Call the NATE certified professionals at 847-905-1608.
---
Ameristar Gas Furnaces
Ameristar furnaces are designed with value and efficiency to warm your residence with gas heat all winter long and circulate cool air during the summer, providing year-round comfort and reliability.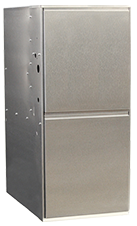 80% Single-stage Furnace Upflow and Downflow
(Available Gas Company Only Rebate)

95% Two-stage Furnace Upflow and Downflow
(Qualifies for Rebates from ComEd and Gas Company)