Libertyville, IL Heating and Cooling | HVAC
Air Conditioning Libertyville IL – Repair, Installation and Maintenance
Thornton Heating has been servicing the Libertyville, IL area for over 50 years, and you can depend on us for all your heating and cooling needs. Most people trust HVAC contractors like Thornton Heating to cover their air conditioning needs in Libertyville IL. Unlike other air conditioning contractors, we are 110% more dedicated to your satisfaction that we only hire full time NATE certified technicians to perform your Libertyville air conditioning repairs and installations. Whether you need regularly scheduled air conditioning, spring maintenance for your cooling system, or you need a new air conditioning unit, we are the ones to call.
Furnace Repair, Installation and Maintenance
Thornton Heating offers new heating systems with financing available with approved credit. Thornton's highly trained technicians also provide furnace repair and maintenance of all brands of existing equipment to ensure that our customers' systems run at peak efficiency. A regularly maintained furnace will burn fuel more efficiently, saving customers money on their utility bills. Excellent customer service is the highest priority of what we do, and we will do what it takes to satisfy our customers.
HVAC Services
Thornton Heating Services offers several maintenance plans that ensure regular cleaning and tune up of your heating and cooling equipment. These plans also offer discounts on repairs and priority service during business hours. In addition to heating and cooling systems, plans for air cleaners and humidifiers are also available. With maintenance plans, you pay a little now to save money later. Residents in the Grayslake IL area can be assured that their HVAC systems are in good hands with Thornton Heating Services.
24-Hour Emergency Service
Thornton Heating services all brands of heating and air conditioning equipment. Our service technicians receive up-to-date training and enter your home with shoe covers, completing their work in a neat, courteous and professional manner. Fixed pricing means you will know the price up front, there will be no surprises. Your heat or air conditioning will be back up and running as quickly as possible.
Boilers and Water Heaters
At Thornton Heating Services, we offer a full line of water heating equipment, including options that offer significant savings on your utility bills as well as making your home more comfortable. Our water heating equipment comes from leading manufacturers to give customers the best quality possible.
Heating and Air Conditioning Accessories
In addition to maintenance and repair of existing furnaces, Thornton Heating Services offers services that will help you save even more money and be more comfortable in your home. Whole home air cleaning and humidifiers as well as digital thermostats all help your furnace & A/C unit work more efficiently and add to your family comfort. You save money while increasing your comfort. Installation is provided.
Duct Cleaning
Our talented and highly trained crew of air duct cleaning technicians is dedicated to bringing cleaner indoor air to you and your close associates, whether they be family members, co-workers, or clients. We offer the most value for your air duct cleaning dollar, along with free estimates, easy to schedule appointments, exceptional work performance, friendly service and total customer satisfaction. No wonder we are the Libertyville's favorites for superior quality air duct cleaning and service. Our established customer base loves our work, and you will too once you've tried us out.
Hot Water Heater Installation and Repairs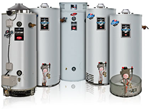 However, you may not think of Thornton Heating when your hot water tank just isn't producing the amount of hot water your family needs. Moreover, Thornton Heating installs water heaters that work with your current water system to not only provide you the hot water you require, but to do so efficiently saving energy and costs with 100% warranty.
Trust the best, we stand behind the quality reputation we've built in Libertyville for almost 50 years, and we're ready to help you.