Air Conditioner Units
Air conditioner products may look similar, but their efficiency can vary widely. The EPA "current minimum standard" uses 23% less energy than older models. At Thornton, we carry an array of air conditioner products that start there, but have much greater efficiency. Depending on your average usage, higher rated efficiency air conditioners can significantly reduce your electric bill.
Additionally, we offer many air conditioners that have advanced features, such as 2-stage compressors and variable speed fan operation. These features not only improve the comfort level of your home, but can provide additional energy savings as well.
Call us at 847-905-1608 to discuss your air conditioning options.
Air Conditioning Skokie | Air Conditioning Libertyville | Air Conditioning Evanston | Air Conditioning Wilmette | Air Conditioning Grayslake
---
Ameristar Air Conditioner Products
Ameristar home air conditioners are built to deliver cool and comfortable temperatures throughout the year, efficiently and quietly, all while providing capability without breaking your budget.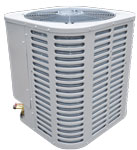 13SEER Single-stage Air Conditioner Unit
(Does not qualify for any rebates)
---
Trane Air Conditioner Products
More stages mean more comfort and efficiency.
When Trane refers to "Staging" in their air conditioners, this refers to the unit's ability to function efficiently at less than maximum capacity. The result is that a two-stage Trane system offers improved comfort and higher efficiency (SEER ratings) over single-stage systems. For an exceptional combination of reliability, comfort, and efficiency, Trane's TruComfort™ variable speed system offers 700 stages!
What does 700 stages of comfort really mean?
Often it can feel "too cool" or "too hot" when your system is between cycles. With 700 stages, a Trane TruComfort™ variable speed system practically removes temperature fluctuations. The result is a system that glides efficiently along, similar to cruise control, rather than a system that is constantly cycling. While scarcely using electricity, the system operates at lower speeds for extended periods of time to offer:
Advanced temperature control
Lower humidity
Reduced sound
Enhanced filtration
Lowest cost per minute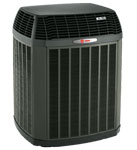 Single-stage Air Conditioner Units 13SEER through 16SEER
Models: XR13, XR14, XR16 and XL16i


Two-stage Air Conditioner Units 17SEER through 18SEER
Models: XR17 and XL18i

Variable-Speed Air Conditioner Units 18SEER through 20SEER
Models: XV18 and XV20i