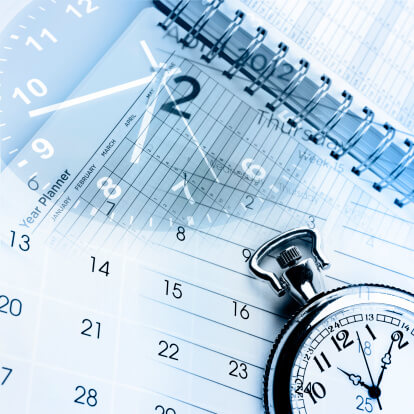 Keeping scheduling conflicts and headaches to a minimum is possible when you learn how to effectively keep your HVAC project on track. Perhaps you're converting your home to central AC, installing a heat pump, or having new duct work installed. Whatever the case, the project should follow a tight schedule; if not, your project could end up taking much longer than you anticipated. Make sure you have a schedule spelled out within your contract so everyone's on the same page.
Here are some factors on which the timeline of your HVAC project will depend.
Scope of Work
How much work needs to be done is first and foremost the biggest indicator of how long the project will take. Have a conversation with your HVAC contractor to determine how much work is involved and how many days it will all take. Can he perform the job in one day? Two days? More? You'll need this information to plan your household life for a couple of days, making yourself scarce when needed.
Materials Needed
Sometimes, your HVAC professional will have to order the materials needed to complete the job. This can take time to order and pick up. How long this takes will depend on whether you need specialty materials, top-of-the-line energy-efficient brands, or systems featuring state-of-the-art technologies. These factors will also affect how long it will take for installation. Quite simply, some systems take more skill and attention to detail than others, translating to more time. Anticipate delays due to ordering hard-to-find items from a warehouse as well as shipment times.
Permits
When you're looking at extensive or invasive HVAC work being done to the home, your contractor will pull the necessary permits at the local government offices. Sometimes it takes just a few days; other times it takes up to a week or more. Don't forget to consider these delays when forming your schedule. Resist the urge to gloss over the permit pulling stage. It would save time now; however, in the long run it's simply not worth it. If you go through the proper channels, you will increase the property value of your home.
Weather
In the case of an HVAC unit being installed outside your home, weather is certainly a factor when looking at your schedule. Leave room for delays due to rain or other severe weather.
Busy Season
Think ahead when you want your HVAC project done. If you need an AC unit installed, make the call in early spring. If you need a heating unit installed, call in late summer or early fall. If you wait to make the appointment when in the midst of the season, you're going to run into long wait times for services.
Cost
Looking to add central air on to an existing forced-air heating system with no alterations to the ductwork? You're looking at between $3,500 and $4,000 for a 2,000 square foot home, with a timeline of two to three day, says This Old House. However, when you decide to add on heating and cooling systems with the installation of brand new ductwork, plan to pay between $6,600 and  $11,000 for a split HVAC system. A ductless system will range from $2,000 up to $7,000.
For any advice on scheduling and timelines, call Thornton Heating Service. We can accommodate any project requirement you may have, all performed in an efficient, quick, yet thorough manner.