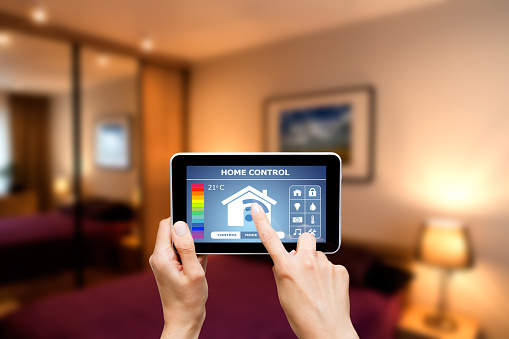 Everything is so smart these days — phones, TVs, security systems, you name it — It's no wonder smart thermostats have emerged onto the scene to offer home and business owners a way to save on energy costs as well eliminate hassle and time. While you can install a basic programmable thermostat yourself in under an hour if you're a savvy DIY'er, it's best to enlist the help of a pro for this job to ensure it's done correctly.
Why Choose Innovation?
From easy programming to sophisticated displays to remote control access via the Internet, there are many reasons why you should install a smart thermostat in your home this year.
1. Energy Savings
Tired of rising bills in the winter that keep you from spending money where you really want to? Take control with a smart thermostat that allows you to pre-set your temperatures so the heat goes off only when you want it to. House Logic says heating and cooling account for most of a home's energy usage, about $1,000 each year for the average home. When you switch from a manual model to a programmable or smart thermostat, you can keep up to $180 more per year in your pocket. The up-front cost of a smart thermostat may be higher than you would normally spend but the savings will quickly outpace the initial investment.
2. Convenience
Today's innovative thermostat models act more like computers than anything else. They feature fancy colorful touchscreen displays, interactive experiences, separate programs for each day of the week, service alerts, humidity sensors, usage records and portable controllers — all in an effort to make your life easier.
Let's say you've just left the house for a two-day business trip but forgot to adjust your thermostat accordingly. You can do it from the road, via your tablet or smart phone, without having to turn around and figure it out manually. No more stress, no more running home to make sure the heat isn't kicking on continually. The peace of mind a smart thermostat offers, and the knowledge you can control it from anywhere, is one of the key reasons you should have one.
3. Versatility
Going on vacation for a week and don't want to worry about the heat kicking on? What about when you go to work for 10 hours a day? You don't want to shut the heat completely off while you're gone, especially in the extreme cold when freezing pipes could be an issue. With a smart thermostat, you have the flexibility to go where you want and do what you want without worrying about something so mundane as your heating schedule. When on the go, you can access the system through a personalized web portal wherever you can access the Internet. You can log in to check on the performance of your HVAC unit, make adjustments on temperature settings, and even control lighting, music and window treatment motors depending on the model you choose.
Contact Us
Here at Thornton Heating Service, we can connect you with the perfect solution when it comes to temperature and comfort settings that are consistent throughout your home with the latest in thermostat and zoning technology. Our innovative products, such as the award-winning Trane ComfortLink II Thermostat, put you in control of your environment. Call us today to learn more.