Trane 95% Communicating Furnace
XC95 Variable-Speed Communicating Furnace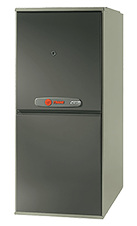 The XC95 is Trane's top of the line unit featuring the first true communicating furnace, fully modulating gas valve. An extraordinary furnace, the XC95 is rated with up to 97.3% efficiency to combine peak heating efficiency with the ability to work with other system components to adapt and calibrate to your unique heating needs.
The result is an optimized performance that continues to adjust year after year to ensure you are experiencing unmatched comfort throughout your home.
You can trust that your XC95, along with every other Trane furnace, is manufactured with high-quality components. Your Trane unit will maintain total comfort your family can rely on year-round, no matter the temperature outside. The XC95 includes:
ComfortLink™ II communicating capability
Communicating user interface
Variable-speed blower motor
Fully modulating gas heat furnace provides greater fuel efficiency and ultimate comfort control
Heavy gauge, two-tone powder-painted cabinet
Increased dehumidification with Comfort-R™
Durable silicon nitride hot surface igniter
Multi-port, in-shot burners
One-piece aluminized steel primary heat exchanger
24-volt fuse to protect controls
Insulated cabinet for quiet operation
Compatible with ERV, humidifier and air cleaner
---
Trane First-rate Warranties
Your investment in a Trane furnace is well protected with limited warranties on the heat exchanger and functional parts.
10 YEAR LIMITED WARRANTY ON FUNCTIONAL PARTS WITH REGISTRATION*
LIFETIME LIMITED WARRANTY ON THE HEAT EXCHANGER WITH REGISTRATION*
OPTIONAL EXTENDED WARRANTIES ARE ALSO AVAILABLE. EXTENDED WARRANTIES CAN PAY FOR LABOR AND OTHER COSTS NOT COVERED BY THE MANUFACTURER'S LIMITED WARRANTY.
* Registered Limited Warranty terms are available when you register within 60 days of installation, otherwise Trane's Base Limited Warranty terms will apply. Base Limited Warranty information on specific products can be found on Trane.com. Ask your dealer for full warranty information at time of purchase. Warranties are for residential use only, some exclusions may apply. An option to purchase transferability of your Registered Limited Warranty is available.
---
Heating Rebates
Thornton Heating Service, Inc. wants you to get the most for your money so we do our best to give you all the applicable rebates on qualifying systems that are available. Rebates from ComEd, Nicor or North Shore Gas/Peoples Energy. We also offer quarterly coupons toward services on our specials page.
To see the available rebates click the following links:
https://www.comed.com/WaysToSave/ForYourHome/Pages/Rebates.aspx
https://www.nicorgasrebates.com/your-home/rebates-for-home
https://www.northshoregasdelivery.com/home/rebates_residential.aspx
---
Contact the NATE Certified professionals today at 847-905-1608. We offer all heating services from new installation, maintenance, repairs, and servicing. Don't wait for your unit to break down! Get your free in-home inspection today from Thornton Heating Services.