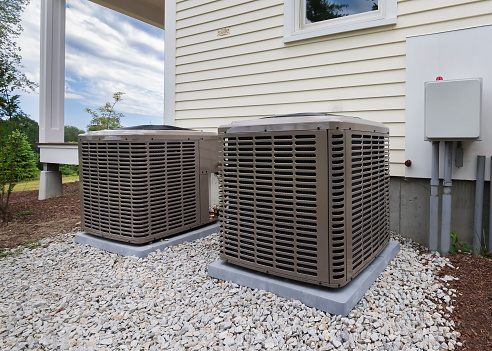 If your furnace is getting up there in years and has been giving you problem after problem, this is a sign that your furnace needs replacement. The average lifespan of a furnace is between 15 and 20 years, according to SF Gate. This will vary depending on a multitude of factors, such as initial quality of the unit, how well it's been maintained over the years, how you use it, how much you use it, and its specific intended use. For example, forced air systems with a heat pump only last about 15 years while gas or oil furnaces can give you about 18 years. If you have been lucky enough to have your furnace for 20 to even 25 years, get ready to replace it. But how can you be sure?
Here are some tell-tale warning signs — aside from age — that your furnace is getting ready to die.
Rising Energy Bills
If your energy bills are rising and you can't figure out why, your furnace could be to blame. Over time, furnaces become less efficient, particularly when you haven't kept up with regular maintenance through the seasons. This results in the unit working harder to output the same or less amount of heat, which in turn hikes up your energy bills. Take that extra money you're throwing at the utility company and use it towards a brand new furnace.
Repeated Repairs
It's inevitable you will need to make repairs to your furnace over two decades of ownership. This is part of life. However, when those repairs start piling up, particularly those that involve the same issues over and over again, this is a big sign your furnace is coming to the end of its useful life. You're shelling out hundreds just to keep the old unit going when you could install a new one that runs much more efficiently without the threat of break-downs every winter. Another annoyance about repairs on your old furnace is that parts can be more and more difficult for your HVAC contractor to locate and install as the years go on.
Spotty Heating
If you're experiencing some rooms warming up more readily than others, causing you to make constant adjustments to your thermostat, your old furnace could be to blame. As your furnace ages, it loses its ability to evenly heat your whole home, leaving pockets of cool air instead of a uniform comfortable temperature. What good is keeping your furnace if you're not going to be comfortable in your own home? A new energy efficient furnace will more properly distribute the warm air to keep you cozy all season long.
Weird Noises
All furnaces have their little sounds that we all get used to over time. However, the older your furnace gets, the noisier and more unpredictable it becomes. Banging…rattling…squeaking…clicking…these can all signal a furnace blower that's running excessively, with on and off cycling that gets very inefficient very fast. If this is happening with more and more frequency despite check-ups and repairs, it's time to replace your furnace.
Contact Us
Here at Thornton Heating Service, we are happy to help with all your furnace replacement needs. Call us now at 847-905-1608 — we are available 24/7 to better serve you. We always have specials going on, so check them out!